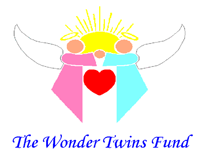 "Love is the best medicine"
The Wonder Twins Fund was formed in 2008 by John, Tracey and John Jr. Falcone to help the infants, families and staff in the Neonatal Intensive Care Unit at The Maria Fareri Children's Hospital in Valhalla, NY. Our mission is to comfort and aid them through a most challenging time. Having first hand knowledge of having a child in the hospital for an extended period of time, our goal is to address areas of assistance not usually covered by other charities and hospital funding. Infants are provided items to comfort them while they are being treated such as blankets, specialized clothing, and music players. Parents and families are offered items and services such as journals, transportation, food, and companionship to help them to be there for their children and cope themselves. Any assistance we can provide to the doctors and nurses is also available. They give so much of there time, effort and love to help their patients, any small items they request will be provided. We also hope to implement and assist in several projects at the hospital to improve the environment as a whole.
The Wonder Twins Fund is named in honor of our twin daughter and son, Mia and Anthony Falcone. Mia Louise (21 weeks/2 days – 1 lb ½ oz) was born December 22, 2007 at The Maria Fareri Children's Hospital NICU. Mia fought so hard, but was too small and fragile and succumbed to her prematurity on December 24, 2007. Anthony Julius Joseph (22 weeks – 1 lb 3ozs) was born December 27, 2007. Anthony survived numerous complications and surgeries and remained at the hospital for more than eight months, receiving amazing care. Anthony's character, determination and smile captured the hearts of so many of the hospital staff who were so caring for Anthony and supportive of our family as we stayed by his side day and night. Anthony passed away in his parents arms on September 4, 2008 from unexpected internal bleeding.
If you would like to donate a new baby blanket, writing journal or make a monetary donation please send it to: Wonder Twins Fund,
2190 Parker Lane, Yorktown Heights, NY 10598 or drop it off at The Hudson Creamery during regular shop hours.
Our hope is that every infant and family at the hospital will feel the love our Wonder Twins were provided and enable their spirit to help others. No parent or child should have to endure this type of situation so early in life and during what should be such a joyous time. We are truly blessed to have The Maria Fareri Children's Hospital available to us in our community. God bless you all and thank you.